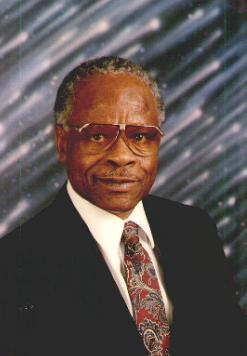 Reverend James L. Byrd. Ph. D.
James Leander Byrd was born in Melbourne, Florida. He attended local schools, excelling as an honor student and participating on his high school's football team, then entered Florida A&M University. He left the university to serve in the U.S. Army for two years, then returned to finish out his bachlor's degree in science. After teaching at the high school level for a year, Byrd became a professor of pyschology at FAMU. He later went on to complete his M.S. and Ph. D. degrees from Indiana University and the Catholic University of America respectively.
During his twenty-three years on the Hill, Dr. Byrd served in many capacities--these included Coordinator of the School of Psychology's Gradute Program and participating on many university level bodies such as the Sabbatical Leave Committee, the Graduate Council, and the Falculty Senate among many. He has also been pegged as 'Teacher of the Year' by the Department of Psychology and the College of Humanities and Social Sciences.
Rev. Byrd received his call to minister while an active member at Bethel AME here in Tallahassee. After serving under Rev. I.D. Hinson he was given his first assignment within the Florida Conference at Springfield AME. In 1982, he was transferred to Anderson Chapel AME where he has remained for the past eighteen years. In addition to his pastoralship, Rev. Byrd served as Conference Secretary from 1979 to 1992. He has sense retired from teaching at FAMU. Rev. Byrd is married to the former Geraldine Petty and is the father of two daughters--Sabrina, who's a practicing pharmacists, and Serena, who's a respiratory therapist.
New Mt. Zion AME Church
1401 Old Bainbridge Road
Tallahassee, Fla 32303
(850)222-4201